Bathtub & Shower Surrounds Installed in Greater Philadelphia, Upper Darby & Wilmington PA

Quality wall surrounds from Home Smart are:
Easy to install: Typically fitting right over existing bath or shower walls.
Low maintenance: Resistant to mold and mildew and non-porous for easy cleaning.
Guaranteed to last: Our Bath Planet wall surrounds come with a Lifetime Warranty.
Get rid of ugly bathtub & shower walls with a quality wall surround
Whether you are building a new bathroom or remodeling an existing bath, it's important to choose a tub or shower surround that looks good, lasts long, and doesn't demolish your budget.
A shower or bathtub surround installed by Home Smart can give your bathroom an updated look in as little as one day. Our wall surrounds can typically be installed over existing tub or shower stall walls, guaranteeing a perfect fit!
Contact us today to schedule your no-obligation bathroom design consultation. We offer Free Estimates for installing bathtub and shower surrounds in Bryn Mawr, Malvern, King of Prussia, Atlantic City, Cherry Hill and the surrounding areas.
Before and After
Before

After

Homeowners in Bear, Delaware were unhappy with their blue bathtub so they called the professionals at Home Smart. A new bathtub was installed with a new wall surround that is non-porous, meaning mold and mildew resistant and easy to clean.

Before

After

Homeowners in Newark, Delaware met with the experts from Home Smart to have a new bathtub and wall surround installed in their bathroom to bring color and style to a once plain white bathroom.

Before

After

Homeowners in Newark, Delaware called Home Smart for their free in-home estimate when they decided to remodel their bathtub/ shower unit. The bathtub was replaced along with a new wall surround made of high quality acrylic that is easy to clean and mold and mildew resistant. It was installed all the way to the ceiling to protect the wall from water and moisture damage.

Before

After

This new wall surround was installed in West Grove, Pennsylvania by the professionals at Home Smart Industries. The new wall surround covers more of the wall, protecting it from water damage. The towel bar was removed and replaced with sturdy grab bars that are strong enough to be used safety.
Materials used in your bath or shower should stand up to moisture
The term "surround" is an appropriate way to describe the wall sections that enclose a bathtub or shower. These surrounding walls have a job description that goes far beyond what we expect from standard walls. A bathtub or shower surround has to stand up to soaking conditions day after day, without allowing moisture to penetrate into wall cavities or mold to grow on wall surfaces. Tub and shower surrounds also typically contain recesses and/or shelves where soap and shampoo can be stored.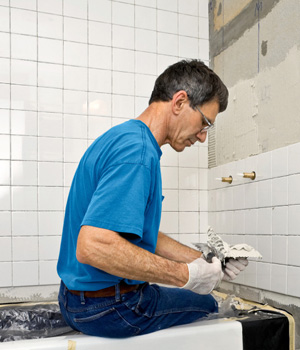 Beautiful yet impractical. Tile showers look nice, but can be expensive to install and are easily damaged by things like mildew and cracks.
Tile surrounds can be beautiful but are expensive and easily damaged
A tile tub or shower surround has come to signify high quality as well as high cost. Because you have the opportunity to select the tile colors, sizes and patterns that suit your fancy, it's possible to create a one-of-a-kind composition when your bath or shower surround is built.
For many homeowners, this design opportunity is worth the premium price that tile contractors usually charge for this work.
Tile surrounds for bathtubs and showers aren't without their problems, however. For one thing, the grout joints between tiles can crack and allow water to penetrate and accumulate behind the tile. Even grout that isn't cracked will still absorb a certain amount of moisture, which increases the likelihood that mold spores will take hold on the surround surface. Black stains on a tile surround are telltale signs of mold. Water that makes its way behind tiles can cause some tiles to work loose and even fall out of place.
Panel-type surrounds offer excellent value
These days, many homeowners prefer the exceptional durability and common-sense utility you get with panel-type surrounds for bathtubs and shower stalls. Unlike a tiled surround, which is made from hundreds of individual tiles, a panel-type surround is made up of no more than several large wall panels that are designed to overlap and (in some cases) interlock, forming a near-seamless surface.
With panel-type surrounds, there are no grout joints to crack, admit water and support mold growth. Instead you have thick, durable surround panels that direct water down toward the drain. The bottom edge of each panel overlaps the wall flange where the top edge of the shower base or bathtub is secured to the wall.
Panel-type tub and shower surrounds can be made from acrylic, fiberglass, plastic or thin solid-surface material. Surrounds are available to match common tub and shower stall sizes, in a limited selection of colors and styles (including faux tile). Some surrounds are designed specifically to go with a particular model of bathtub or shower base, while others are easily adapted to tubs and shower bases made by other manufacturers. Most surrounds have built-in features like soap dishes, shelves and grab bars.
The popularity of panel-type surrounds is easy to understand. They perform better than tiled surround walls at preventing moisture damage around tubs and showers. They can be installed more quickly and more affordably than tile. If your tub or shower already has a tiled surround that is not in good shape, it may not be necessary to rip out the old tile in order to install a panel-type surround. Some panel-type surrounds are designed to be installed directly over old tile walls –another time- and cost-saving feature.
A beautiful bathroom starts with our free design consultation
Home Smart offers high-quality bathtub and shower surrounds at a price that's affordable. Schedule a consultation with one of our bathroom remodel specialists today to learn more about all the styles, colors and options available. We also offer other quality bathroom renovation solutions, including bathtub liners, shower enclosures and tub to shower conversion.
Call 1-877-914-1930 or contact us online to get a FREE, no-obligation quote in Malvern, Bryn Mawr, King of Prussia and other nearby areas, including Sewell, Cape May and throughout Pennsylvania and New Jersey.
Looking for a price? Get a no cost, no obligation free estimate.