Bathroom Fixtures Professionally Installed in Greater Wilmington DE, Philadelphia and Upper Darby, PA

Quality bathroom vanities, toilets, shower heads & more for your bathroom remodel
Just about any feature in a bathroom plays a part in the overall style of this small but significant space. But bathroom fixtures do more than make a style statement. They also determine how well the bathroom performs its basic functions. It's not enough for these devices to look good; they also have to function well.
The bathroom design experts at Home Smart can help you choose the right bathroom fixtures, either as part of a major bathroom renovation or to give your bathroom an updated look!
Contact us today to schedule a bathroom design consultation or get a free quote to have your bathroom fixtures installed by our skilled contractors.
Small bathroom fixtures are easier to replace & can make a big impact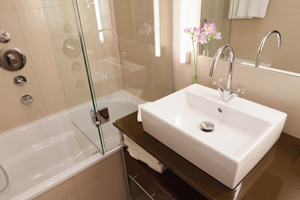 Combining style and function. A new bathroom vanity or faucet can make a bathroom feel brand new, but while you're spending the money, you should also consider the functionality of the products you choose.
Bathroom fixtures can be classified as small or large. Small fixtures include faucets, shower heads, light fixtures, vent fans and towel racks. These bathroom fixtures can be replaced fairly easily. A homeowner can remove an old showerhead and install a new one in just a few minutes. It makes sense to install a new showerhead if your existing showerhead doesn't have the features you like or if its flow rate exceeds 2.5 gpm. As for sink faucets, these are often replaced when a new sink or bathroom vanity is installed during a bathroom remodel.
A light fixture upgrade gives you the opportunity to update your bathroom's style while also improving both types of light that are necessary –ambient and task.
Some building codes don't call for a bathroom vent fan if ventilation can be provided by opening a bathroom window. Nevertheless, it's advisable to have and use active ventilation in the bathroom to control moisture and eliminate the wet conditions that can trigger mold growth. Modern bathroom vent fans can operate very quietly (look for a sone rating below 3.0). Fan switches equipped with a timer are recommended. This feature keeps the fan operating for a preset time period after the user leaves the bathroom, ensuring that humid bathroom air is completely exhausted to the outside.
NOTE: Unless you're a seasoned DIYer with electrical experience, you're better off calling a licensed electrician to install a vent fan or bathroom light fixtures.
Major bathroom fixtures can be replaced or updated
While small bathroom fixtures are fairly easy to replace, it's more costly and more disruptive to replace major fixtures like toilets, tubs, sink vanities and showers. Total fixture replacement is typically done during a major bathroom remodel –a "gut rehab" that strips the bathroom down to bare wall and floor surfaces.
Since a major bathroom remodel can cost $15,000 or more, many homeowners are interested in less-costly bathroom remodeling options. Fortunately, worn and/or outdated tubs and showers can be restored to like-new condition for a fraction of what you'd pay to tear out and replace these fixtures. Home Smart's specially-trained bathroom remodeling contractors can use relining techniques to make old tubs, showers and sinks look and work like new again.
If your bathroom is in desperate need of remodeling, don't assume that an expensive gut rehab is called for. Instead of replacing major bathroom fixtures, it may be possible to restore them. Experienced bath relining technicians may be able to save you thousands of dollars by renewing rather than replacing your major fixtures.
Interested in learning about some other ways that we can upgrade your bathroom? Check out our bathroom design ideas for Pennsylvania and New Jersey homes.
We install bathroom fixtures for every style and budget
Home Smart has been Greater Philadelphia's trusted bathroom remodeling experts for more than a decade. We can handle everything from installing bathroom fixtures to converting your bathtub to a shower. Contact Home Smart today to schedule your free bathroom remodel estimate today! We have experience installing bathroom fixtures in Malvern, Bryn Mawr, King of Prussia homes and throughout Atlantic City, Cherry Hill and nearby.
Looking for a price? Get a no cost, no obligation free estimate.