Shower Enclosures in Greater Philadelphia, West Chester and New Jersey

We install custom shower doors that look good and are designed and manufactured to last
At Home Smart, we offer a wide variety of shower enclosures to fit your needs, style and budget. Whether you want to replace your old glass shower door or are in need of a custom shower enclosure, we always ensure quality installation and products to get the job done right.
Home Smart's quality shower enclosures offer the best in design, functionality and durability. Contact us to setup a FREE design consultation with one of our certified bathroom remodeling contractors. We provide no-obligation quotes for all bathroom renovation services in King of Prussia, Bryn Mawr, Malvern, as well as Cherry Hill, Sewell, Atlantic City, Cape May and nearby areas of Pennsylvania and New Jersey.
Before and After
Before

After

Homeowners in Reisterstown, Maryland had their bathtub converted to a safety shower with a fold down seat, safety grab bars and a handheld shower sprayer wand with anti-scald technology.

Before

After

Is this beautiful?! Brighter, cleaner, updated, welcoming, the list continues! We can do this for you too! Give us a call!

Before

After

Homeowners in Blain, Pennsylvania called Home Smart for their free in-home estimate when they decided their bathtub was no longer the safest bathing option for them. Our expert installation team converted their bathtub to a safety shower with a low step in, fold down safety seat and handheld shower sprayer wand with anti-scald technology.

Before

After

This Customer in Hockessin DE. wanted a more accessible shower so we replaced regular shower with a handicapped accessible shower to make showering easier for them.
Our bathroom remodel experts can help choose the right shower design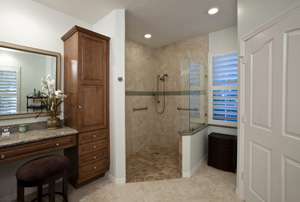 Create more open space. A glass walk-in shower enclosure makes a bathroom look and feel bigger, improves accessibility and adds a more modern touch.
Walk-in showers offer numerous benefits over a tub. Most people prefer the convenience and roominess of a walk-in shower over a combination tub/shower unit. Walk-in showers are also popular because of our aging population. Certain types of walk-in showers are designed for easy access by people with physical handicaps.
Walk-in showers (also referred to as walk-in shower stalls) all share a common feature: a low threshold that makes it easy to step into the shower. But walk-in showers are available (or can be built) in different sizes.
There are a number of other features that distinguish different types of walk-in shower stalls. Here's a brief overview:
Factory-made walk-in showers or shower stalls. Most of the walk-in shower stalls in use today are manufactured units made from reinforced fiberglass or acrylic material. One-piece factory-made units are installed in new construction. For remodeling, it's usually necessary to install a multi-piece walk-in shower stall whose parts interlock. Seats, shelves and cubbyholes are frequently cast into the walls of factory-made walk-in showers. A shiny, gel-coated finish resists staining and makes the stall surfaces easy to clean. Manufactured walk-in shower units come in different sizes and colors, with different wall design features.
Custom-made walk-in showers. The opposite of a factory-made walk-in shower is a walk-in shower made on site. With this type of walk-in shower, the contractor frames the walls and floor of the shower and installs masonry backing or base material along with a drain and waterproof membranes. Then the contractor finishes the shower walls and floor with tile. Because of the labor involved, this type of walk-in shower is usually more expensive to install than a factory-made unit. Looking for an affordable way to upgrade your shower? Check out of shower design ideas for help!
Accessible showers. While any walk-in shower could be described as "accessible," some units have special features designed to accommodate individuals with physical disabilities. For this reason, this type of walk-in shower is sometimes referred to as "barrier-free," "handicap-accessible," or "ADA-compliant" (ADA stands for American Disabilities Act). Home Smart is Greater Philadelphia's certified Bath Planet dealer and installer of the brand's quality walk-in tubs.
Glass-enclosed walk-in showers. An accessible walk-in shower is most likely to have a shower curtain that can be pulled aside to provide easy access to the shower. Other walk-in showers (especially custom-made showers) are fitted with sleek, frameless glass doors that keep water inside the shower stall. Still other walk-in showers may not require doors at all because of their configuration or because of the bathroom's design.
Call us today to get started on your shower remodel! Our experienced bathroom remodeling professionals will install your new enclosure in accordance with your space and needs. We serve King of Prussia, Bryn Mawr, Malvern, as well as Atlantic City, Cape May, Cherry Hill, Sewell and surrounding Pennsylvania and New Jersey towns and cities, providing custom shower enclosures and walk-in shower solutions.
Contact Home Smart today - schedule a free estimate for all of our bathroom renovation and shower remodel services!