Walk-in Tub Installation in Greater Philadelphia, West Chester & Upper Darby PA
We can improve your bathroom's safety in PA, DE and Southern NJ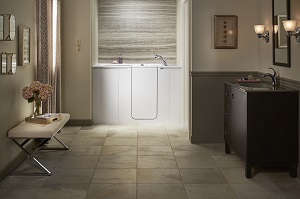 Walk-in tubs fit as seamlessly into your bathroom design as a traditional tub or shower.
At Home Smart, we understand the challenges that bathing can present to seniors and people with physical disabilities. We believe that everyone should be able to live safely and comfortably in their own home, which is why we install high quality walk-in tubs throughout PA, MD, DE and Southern NJ. The right bathroom remodeling can reduce the risks and frustration of having limited mobility and can allow seniors to live at home longer.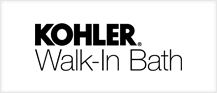 We install quality walk-in tubs to ensure a safer, more convenient bathing experience. With features such as a sturdy grip handles, easily accessible controls, and watertight doors, you can count on getting a tub that looks great and perfectly fits your needs.
Contact us today to schedule a free quote for installing a walk-in bathtub in your home today! Our bathroom remodeling services are offered in King of Prussia, Bryn Mawr, Malvern, Trenton, Baltimore, Washington DC, Pittsburgh and nearby.
Walk-in tubs provide safety and convenience
Customer Review
By Anwer A.
Bethesda, MD

"Home Smart Industries was organized and prrfessional. I was very satisfied with the work that they did. Everything was done very..."

By Debra &.
Fort Washington, MD

"Georgia, Brian, Bob and Shawn. Whomever the scheduler was. When I talked to them about that situation they were able to work with..."

By Darry/Rose B.
Temple Hills, MD

"I was very pleased with everyone. they did what they said they would do."

By Jane/Cheryl G.
Laurel, MD

"It is a good product. I would recommend it for anyone who has therapeutic problems."

By Rosemary L.
Columbia, MD

"Home Smart Ind. product has delivered. I sleep better and my arthritis is better."

By Charles A.
Hanover, MD

"Thank you all for making this purchase easy for us and also the installation."

By Mary &.
Upper Marlboro, MD

"My husband is blind and the installers went out of their way to tell him where they would be, what they were doing and how long..."

By Gwen &.
Randallstown, MD

By Nathaniel P.
Waldorf, ME

"I think that you did a beautiful job. If anyone would get a walk in tub and wants to talk to me, I would refer it to them."

By Geneva/Iva S.
Severna Park, MD

"Customer care and the way they treated my mothers home."
The primary purpose of a walk-in tub is to ensure that bathing is a safe, comfortable experience. Our walk in tubs come with several great features to ensure they are enjoyable and convenient:
Built-in seats
Grab bars
No-leak door
Non-slip floor
Whirlpool jets
Easy to reach controls
Before and After
Before

After

The Walk-In tub installed in Macungie, Pennsylvania has less than a four inch barrier and a heated seat and backrest for an enjoyable and safe bathing experience.

Before

After

The shower stall was removed from this Franklin, Pennsylvania bathroom and replaced with a Walk-In tub. The wall between the toilet and tub was removed and safety grab bars were mounted to the wall, stratergically placed where the homeowners need the stability and support.

Before

After

In Fraklin, Pennsylvania homeowners were using a shower chair and anti-slip mat inside their shower. The new Walk-In tub has a heated seat and backrest, anti-slip floor and seat and easy to reach controls while bathing, so no need to reach, stretch or bend while bathing.
Products
Over the years, Kohler has become a multifaceted global family of brands that pave the way to enhance our customers' sense of gracious living! We have more than 50 manufacturing locations on 6 continents, and more than 30,000 Kohler associates, making us able to present the idea of gracious living in every corner of the world.
Kohler Walk-in Tubs
Kohler walk-in tubs provide a complete solution for individuals who need accessible bathing options. When you choose Kohler, you get all of the following benefits:
Independence: Your new Kohler Walk-in Bath can be an essential part of your independent lifestyle, allowing you to feel the peace of mind you truly deserve.
Safety: Enter and exit your bath with complete confidence through an extra-wide door and ultra-low step in—one of the very lowest available. Beautifully designed, easy-to-grab handrails offer added stability for a warm, comforting experience.
Theraputic: Kohler tubs come with an easily accessible control panel, powerful hydrotherapy jets, and heated surfaces to create the most comfortable and relaxing experience possible.
Convenience: A hand held shower makes it easy to bathe and rinse yourself while comfortably seated, while the conveniently located door handle ensures a watertight seal.
Craftsmanship & Quality: All jets and faucets bear the Kohler name, so the craftsmanship is unquestioned
Maintain your independence and improve safety with walk-in tubs
Kohler Walk In Bath Territory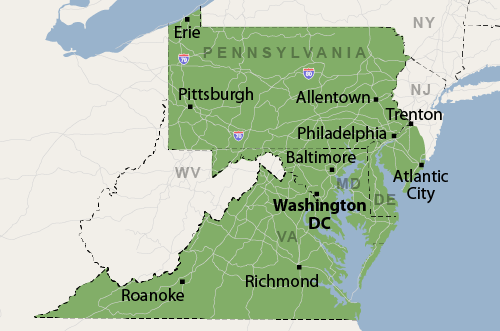 Enjoy comfort, safety and independence with a walk-in tub installed by the experienced bathroom remodeling specialists at Home Smart. We provide free in-home consulations to explain all your options and show you how a walk-in tub can make your bathroom much safer and more comfortable. Give us a call or contact us online to learn more about the and schedule your free estimate! We proudly serve throughout Allentown, Philadelphia, Erie, Malvern, Bryn Mawr, King of Prussia and nearby areas of Pennsylvania, Maryland, Delaware and New Jersey.